Effect of the Government Measures Designed to Promote the Technological Development of the Building Industry and Reduce Housing Costs
Release Date:
March 1959 (370 pages)
Posted Date:
February 14, 2019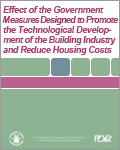 This preliminary report issued after the November 1958 session of the Housing Committee, describes the outcome of government measures designed to promote the technological development of the building industry. The full provisional report was intended to be completed by the eighteenth session of the Committee, in June 1959.

This report is part of the collection of scanned historical documents available to the public.