Effects of the HAO Lead-Based Paint Hazard Standard – Housing Assistance Supply Experiment
Release Date:
June 1980 (36 pages)
Posted Date:
January 27, 2021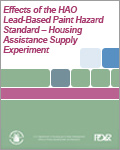 This historic analyzes the extent to which Housing Allowance Office standards regarding the removal of lead paint impacted the extent, cost, type, and validity of repairs undertaken during the Housing Allowance Supply Experiment (HASE). HASE was a long-running research demonstration during which low-income households were provided with monthly cash payments in order to offset their housing costs, on the condition that dwellings met with certain minimum standards.

This report is part of the collection of scanned historical documents available to the public.