Elderly Participants in the Administrative Agency Experiment
Release Date:
March 1977 (160 pages)
Posted Date:
April 29, 2021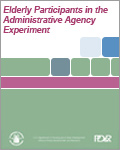 This historic report examines the experiences of the elderly households that participated in the Housing Allowance Administrative Agency Experiment (HAAAE) as recipients of a monthly housing allowance. The HAAAE was the third and final phase of the Experimental Housing Allowance Program, a large-scale federal demonstration project launched in 1970 to evaluate the concept of a housing allowance program. The purpose of HAAAE was to evaluate the performance of eight local authorities operating housing allowance programs for three years. During this period, nearly 6,000 households received allowance payments, 1,229 of which were elderly.

This report is part of the collection of scanned historical documents available to the public.