Elementary Architectural Drawing, Part 3
Release Date:
January 1958 (14 Pages)
Posted Date:
March 28, 2018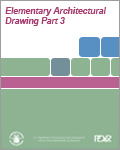 This textbook, compiled for use by students enrolled in classes through the International Correspondence Schools, contains instruction on isometric, oblique, and projection drawing. Practical exercises utilizing the demonstrated techniques are included. This document is part three of three.

This report is part of the collection of scanned historical documents available to the public.