Eligibility and Participation Plan for the Housing Assistance Supply Experiment
Release Date:
October 1978 (29 pages)
Posted Date:
April 22, 2021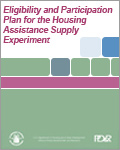 This historic working note presents a plan for analyzing eligibility and participation data from the Housing Assistance Supply Experiment (HASE), in order to help researchers determine who the program helps, who it misses, and why. The authors propose to use the existing HASE database to model the types of household that is eligible but declines to participate and contrast its characteristics with that of participant households and ineligible households. HASE was the second component of the three-part Experimental Housing Allowance Program, which tested the feasibility and desirability of a national program of direct housing assistance to low-income households.

This report is part of the collection of scanned historical documents available to the public.