Emergency Egress from Mobile Homes: Anthropometric and Ergonomic Considerations
Release Date:
May 1980 (46 pages)
Posted Date:
June 22, 2021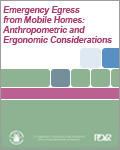 This historic report summarizes a two task effort which is part of the National Bureau of Standards evaluation of the Federal Mobile Home Construction and Safety Standards. The first task consists of a review of relevant anthropometric data from which egress requirements might be drawn. The second task is an empirical study of egress designed to generate data which can assist HUD in evaluating the existing size requirements for egress devices.

This report is part of the collection of scanned historical documents available to the public.