Engineering Soil Classification for Residential Developments
Release Date:
August 1959 (176 pages)
Posted Date:
December 31, 2020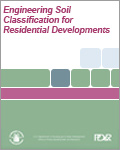 This historic manual is a two-part introduction to the Unified Soil Classification System (USCS). Section I is a report, based on the work of the Virginia Polytechnic Institute, describing the USCS and its use in determining the suitability of soils for residential building sites. Section II consists of tables of representative agricultural soil test data compiled by the Bureau of Public Roads.

This report is part of the collection of scanned historical documents available to the public.