Equal Opportunity in Housing: A Manual for Corporate Employers
Release Date:
November 1973 (62 pages)
Posted Date:
June 22, 2021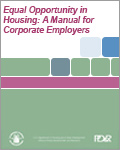 This historic publication was designed to help corporations deal with fair housing issues and minority strides towards equality. The publication consists of four main topics: obligations of federal contractors to give housing assistance to minority employees, how corporations have aided minority employees to find housing, how to develop an equal opportunity in housing program, and site selection.

This report is part of the collection of scanned historical documents available to the public.