Equal Opportunity in Housing: A Series of Case Studies
Release Date:
June 1964 (94 pages)
Posted Date:
June 22, 2021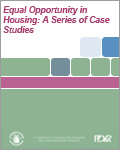 This historic publication consists of case studies of a sampling of situations where nonwhites had been able to exercise freedom of residential choice. These case studies were meant as useful guidelines for the housing industry as it transitioned to an open-occupancy system after the passage of The Executive Order on Equal Opportunity in Housing and an increasing number of state and local ordinances outlawing discrimination in housing.

This report is part of the collection of scanned historical documents available to the public.