Equipment Contract Documents
Release Date:
October 1950 (38 pages)
Posted Date:
April 24, 2020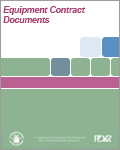 This historic bulletin, prepared by the NHA's Public Housing Administration for use by local public housing authorities, provides direction for preparing contract documents for use in the procurement and delivery of movable equipment. The document includes draft contracts and other forms.

This report is part of the collection of scanned historical documents available to the public.