Equipment Specifications for Infirmaries for Dormitory Projects
Release Date:
April 1943 (22 pages)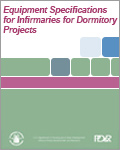 This historic bulletin, prepared by the Technical Division of the National Housing Agency's Federal Public Housing Authority, details specifications and standards for equipment to be used in infirmaries located in war production workers' dormitory projects. Discussed equipment includes heaters, electrical fixtures, plumbing fixtures, medical equipment, and furnishings.

This report is part of the collection of scanned historical documents available to the public.