Equipment Specifications for Maternity Convalescence Trailer Units
Release Date:
August 1943 (7 pages)
Posted Date:
June 9, 2020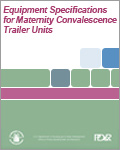 This historic bulletin, written for the instruction of contractors involved in installing five-bed maternity convalescence trailer units on FPHA properties, provides specifications regarding the furnishings and equipment such units. The document provides a list of needed items and specifies the finishings and fixtures that should be present in such service spaces.

This report is part of the collection of scanned historical documents available to the public.