Equipment Specifications for Tenant Activities Buildings for Family Dwelling Projects
Release Date:
July 1943 (15 pages)
Posted Date:
June 9, 2020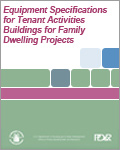 This historic bulletin provides specifications regarding the furnishings and equipment of tenant activity buildings in FPHA developments. The document elaborates on a previous bulletin, "Furniture and Equipment Specifications for Tenant (Morale) Activities Buildings and Cafeterias for Dormitory Projects," which outlines the basic requirements for spaces of this type.

This report is part of the collection of scanned historical documents available to the public.