Equity and Housing Objectives in Homeowner Assistance
Release Date:
March 1981 (44 pages)
Posted Date:
February 14, 2019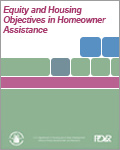 This working note reports the Rand Corporation's views on two program standards proposed for homeowner assistance in the Housing Assistance Supply Experiment. This historic document was prepared by Ira S. Lowry of the Rand Corporation for HUD's Office of Policy Development and Research, and was initially published in June 1974.

This report is part of the collection of scanned historical documents available to the public.