Erosion Control
Release Date:
April 1943 (12 pages)
Posted Date:
June 9, 2020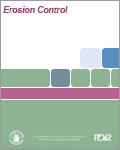 This historic bulletin discusses erosion control during the construction of housing projects. The document describes means of preserving natural erosion controls, such as vegetative cover, and suggestions artificial replacements, such as embankments. Additionally, this bulletin discusses drainage concerns, common drainage problems, and proposed solutions.

This report is part of the collection of scanned historical documents available to the public.