Estimated Effects of Increased Income on Homeowner Repair Expenditures – Housing Assistance Supply Experiment
Release Date:
November 1979 (39 pages)
Posted Date:
January 27, 2021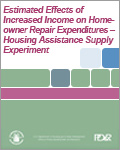 This historic note describes the development of a model of homeowner repair expenditures, based on data for Housing Assistance Supply Experiment (HASE) participants in Brown County, Wisconsin, and St. Joseph County, Indiana. The researchers developed this model in order to predict additional repair expenditures that elderly homeowners might undertake upon receiving income from reverse annuity mortgages. HASE was a long-running research experiment during which low-income households were provided with monthly cash payments in order to offset their housing costs, on the condition that dwellings met with certain minimum standards.

This report is part of the collection of scanned historical documents available to the public.