Evaluation of the HUD Youth Homelessness Demonstration Program Initial CoC Survey
Release Date:
July 2020 (56 pages)
Posted Date:
July 19, 2021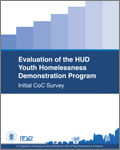 In 2016, the U.S. Department of Housing and Urban Development (HUD) awarded funds to 10 Continuums of Care (CoCs) in round one of the Youth Homelessness Demonstration Program (YHDP) to enable them to develop and implement coordinated community approaches to preventing and ending youth homelessness. In 2017 HUD launched an implementation evaluation of the demonstration program. This report summarizes the first survey of all CoCs which establishes a baseline understanding of what mix of services and housing are currently available for youth and young adults, ages 14–24 across the country. That level of housing and services is also compared to those available in the round one YHDP CoCs. Of the 380 CoCs contacted, 305 CoCs participated in the survey yielding a response rate of 80 percent. The survey results indicate that most youth homeless service systems are in medium or early stages of development and face a number of challenges in serving youth and young adults at risk of or experiencing homelessness. The evaluation team will repeat this inventory in early 2021 to assess how services changed in the YHDP round one CoCs and compare them to changes which occurred in CoCs across the country.