Evaluation of the Emergency Shelter Grants Program – Volume II: Site Profiles
Release Date:
September 1994 (235 pages)
Posted Date:
June 15, 2021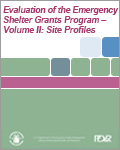 This historic publication, the second in a three-part series, evaluates the efficacy of the federal Emergency Shelter Grant (ESG) program by comparing how well grants met the needs of recipient homeless service providers in 15 cities and states. The ESG program is among the largest and oldest of the 1987 McKinney–Vento Homeless Assistance Act's programs. In fiscal year 1991 alone, between 3,000 and 3,500 provider agencies, over 80 percent of which were shelters, received ESGs.

This report is part of the collection of scanned historical documents available to the public.