Evaluation of the High Cost of Indian Housing
Release Date:
December 1979 (169 pages)
Posted Date:
December 31, 2020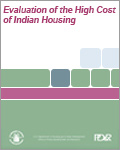 This historic report, written by HUD's Region IX Office of Program Planning and Evaluation, is an examination of the high development costs incurred by public housing projects serving Native American and Alaska Native populations. The report found that factors including economies of scale, labor wage rates, climatic conditions, Indian preference bidding, poor bidding climates, design considerations, and land costs explained the uniquely high costs of these projects.

This report is part of the collection of scanned historical documents available to the public.