Evaluation of the Service Coordinator Program Volume II: Case Studies
Release Date:
August 1966 (157 pages)
Posted Date:
April 24, 2020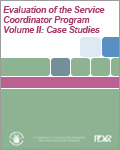 This historic report evaluates the Service Coordinator Program, established by Congress in 1990 to provide personnel to coordinate support services for the elderly and persons with disabilities living in HUD-assisted projects built with Section 202, Section 8, Section 221(d), or Section 236 support. The report was prepared by the KRA Corporation for HUD's Office of Policy Development and Research, and found that the program was successful in meeting the service needs of the target population.

This report is part of the collection of scanned historical documents available to the public.