The Role of the Federal Government in Housing
Release Date:
January 1956 (33 pages)
Posted Date:
June 19, 2019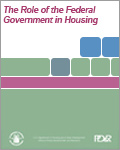 This historic article discusses the evolution of federal housing policies and programs. Author Dr. Paul F. Wendt, professor of finance at the University of California at Berkeley, evaluates specific federal programs and suggests solutions to the nation's housing problems. This publication is the 460th in the series "National Economic Problems" published by the American Enterprise Association.

This report is part of the collection of scanned historical documents available to the public.