Filing System for Project Engineers
Release Date:
November 1943 (10 pages)
Posted Date:
June 16, 2020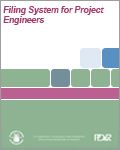 This historic bulletin describes the filing system used by project engineers on FPHA construction projects. The document provides the purpose and scope of the system and stipulates the correct filing of preliminary, general, and construction files.

This report is part of the collection of scanned historical documents available to the public.