Financial Benefits Available to Veterans, Their Families, Dependents and Beneficiaries
Release Date:
June 1950 (12 pages)
Posted Date:
July 20, 2020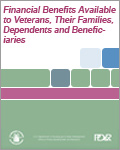 This historic bulletin, intended for sole use by local housing staff in the process of calculating family income for assistance recipients, describes the primary federal financial benefits available to veterans and their families. The publication discusses pensions, compensation, retirement pay, and other direct income administered by the Veterans Administration or secretaries of various uniformed services. Federal benefits that do not affect the determination of family income are not discussed.

This report is part of the collection of scanned historical documents available to the public.