The First Passive Solar Home Awards
Release Date:
January 1979 (206 pages)
Posted Date:
June 19, 2019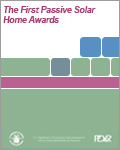 This historic publication profiles the applications selected to receive awards in the first Residential Passive Solar Design Competition and Demonstration. The competition was held by HUD, in cooperation with the U.S. Department of Energy and the Solar Energy Research Institute.

This report is part of the collection of scanned historical documents available to the public.