HAA Task Force Report on the mission, operations and organization of the Housing Assistance Administration
Release Date:
October 1967 (69 pages)
Posted Date:
February 10, 2021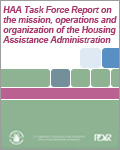 This historic report of the seven-man Housing Assistance Administration Task Force summarizes that body's recommendations. While primarily concerned with public housing, the task force considered matters as ambitious in scope as the organization of HUD itself, and provided recommendations accordingly.

This report is part of the collection of scanned historical documents available to the public.