Housing Discrimination Study: Methodology and Data Documentation
Release Date:
October 1991 (264 pages)
Posted Date:
April 16, 2021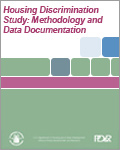 This historic report describes the methodology of the Housing Discrimination Study (HDS), a 1989 study to estimate the extent of housing discrimination against African Americans and Hispanics in major urban areas of the U.S. This report details how researchers gathered HDS sample data from the 25 chosen metropolitan areas, as well as how the data was weighted and prepared. Additionally, part two of the report provides instructions for users of the HDS data and supporting documentation including the data dictionary, survey instruments, and the auditor manual.

This report is part of the collection of scanned historical documents available to the public.