Housing Discrimination Study: Synthesis
Release Date:
August 1991 (80 pages)
Posted Date:
April 16, 2021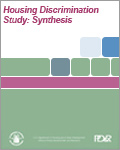 This historic publication summarizes the findings of the Housing Discrimination Study (HDS), a national study conducted in the spring and summer of 1989. The study, sponsored by the U.S. Department of Housing and Urban Development's Office of Policy Development and Research (PD&R) and carried out by the Urban Institute and Syracuse University, involved 3,800 fair housing audits in 25 metropolitan areas. The HDS is the successor of PD&R's previous national audit of housing market discrimination, the 1977 Housing Market Practices Survey.

This report is part of the collection of scanned historical documents available to the public.