What Works! in the Empowerment Zones and Enterprise Communities, Volume III
Release Date:
January 1999 (236 pages)
Posted Date:
March 4, 2019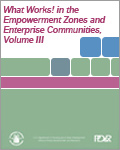 This historic document, the third of three volumes, profiles successful projects undertaken as part of the Empowerment Zone/Enterprise Community (EZ/EC) initiative. Launched in December 1994, the initiative designated distressed communities across the country as EZs or ECs, which received a combination of grants and tax incentives to facilitate the implementation of 10-year strategic revitalization plans.

This report is part of the collection of scanned historical documents available to the public.