HUD Sweet Home: All You Need to Know to Buy a HUD Home
Release Date:
January 1988 (5 Pages)
Posted Date:
December 17, 2018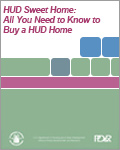 This brief historical booklet provides information about purchasing a HUD home. The pamphlet includes a six-step instructional section on purchasing a home advertised by HUD, followed by a section addressing frequently asked questions about the homebuying process.

This report is part of the collection of scanned historical documents available to the public.