HUDNews: Some 1969 HUD Accomplishments
Release Date:
January 1970 (7 pages)
Posted Date:
June 16, 2020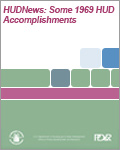 This historic publication is the January 8, 1970 edition of HUDNews, an internal HUD bulletin. In this issue, Secretary George Romney outlines the many accomplishments that the department achieved in 1969 and describes the administration's plans for 1970.

This report is part of the collection of scanned historical documents available to the public.