Health as an Indication of Housing Needs in Birmingham, Alabama and Recommendations for Slum Clearance, Redevelopment, and Public Housing
Release Date:
April 1950 (20 pages)
Posted Date:
June 22, 2018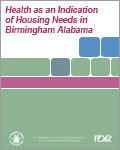 This report was produced for the Housing Authority of the Birmingham District by Dr. George A. Denison, M.D., a health officer with the Jefferson County Board of Health. The report describes a 10-year study, undertaken from 1940–1949, correlating housing conditions to health statistics. Dr. Denison provides two recommendations pertaining to slum clearance and public housing.

This report is part of the collection of scanned historical documents available to the public.