Highlights of Foreign Housing (Abstracts of Recent Publications on Foreign Housing and Planning)
Release Date:
March 1953 (22 pages)
Posted Date:
July 23, 2021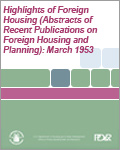 This 1953 document, the 36th in a series, is a compilation of abstracts from English-language architecture and building trade journal articles. The 11 articles all detail residential building projects, plans, methods, or urban planning developed or undertaken in a country outside of the United States.

This report is part of the collection of scanned historical documents available to the public.