Highlights of Foreign Housing (Abstracts of Recent Publications on Foreign Housing and Planning): October 1952
Release Date:
October 1952 (13 pages)
Posted Date:
July 1, 2021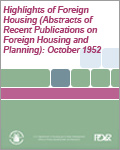 This historic publication is a collection of abstracts from then recent publications on foreign housing and planning. The publication consists of 23 abstracts and covers the areas of India, Italy, Sweden, and more.

This report is part of the collection of scanned historical documents available to the public.