History of the Administration of War Housing During World War II
Release Date:
August 1945 (793 Pages)
Posted Date:
April 3, 2018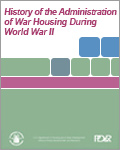 This report reviews the history of war housing during the second World War, beginning with a review of defense housing as it existed prior to 1942 and moving into a discussion of the administrative structure of the newly-formed Office of the Administrator of the National Housing Agency. The report concludes with a critique and evaluation of the wartime housing program.

This report is part of the collection of scanned historical documents available to the public.