Home Security Book Two: the Burglary Game
Release Date:
January 1978 (9 pages)
Posted Date:
February 15, 2019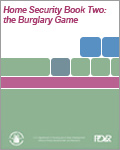 Part two of a three-part series, this 7-page publication instructs homeowners on how to evaluate their house from the perspective of a burglar for the purpose of identifying and amending security weaknesses. The publication was produced for the National Institute of Law Enforcement and Criminal Justice and the Law Enforcement Assistance Administration of the U.S. Department of Justice.

This report is part of the collection of scanned historical documents available to the public.