Housing Consumption in a Housing Allowance Program
Release Date:
July 1982 (120 pages)
Posted Date:
March 9, 2017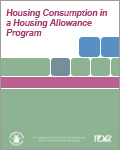 This report analyzes how the housing allowance program, conducted as part of the Housing Assistance Supply Experiment (HASE), affected the housing consumption and budgetary allocation of allowance recipients. The focus reflects the program's dual purpose of increasing the housing consumption of low-income households who lived in substandard housing as well as raising the nonhousing consumption (equivalently, easing the housing expense burdens) of those already occupying standard housing.

This report is part of the collection of scanned historical documents available to the public.