Housing Allowances: the 1976 Report to Congress
Release Date:
February 1976 (67 pages)
Posted Date:
April 24, 2020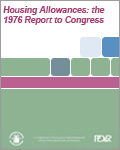 This historic report, prepared by HUD's Office of Policy Development and Research for use by members of Congress, describes the outcomes of the Experimental Housing Allowance Program (EHAP). The program, which began in the spring of 1973, provided more than 14,000 low-income households with a housing allowance in the form of direct cash assistance. The report discusses the demographics of participant households, how payments were used, the costs and administrative demands of the program, the response of housing markets, and more.

This report is part of the collection of scanned historical documents available to the public.