Housing Allowances: A New Way to House the Poor
Release Date:
July 1972 (6 pages)
Posted Date:
March 9, 2017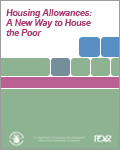 This short article summarizes an early test of using Housing Allowances (the precursor to the Housing Choice Voucher program) in the Kansas City metropolitan area in 1970. It is authored by the then Deputy Assistance Secretary for Fair Housing at HUD under HUD Secretary George Romney, Malcolm Peabody. The article is notable for showing how families used the subsidy, selected their housing and neighborhood, and what benefits the families felt they gained from the program.

This report is part of the collection of scanned historical documents available to the public.