Housing Allowances and Administrative Efficiency – Housing Assistance Supply Experiment
Release Date:
May 1982 (232 pages)
Posted Date:
April 22, 2021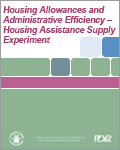 This historic examines administrative costs in the housing allowance programs operated as part of the Housing Assistance Supply Experiment (HASE) from 1974 to 1980 in Brown County, Wisconsin and St. Joseph County, Indiana. The authors provide a system for measuring administrative cost per unit of service provided, track changes in efficiency over time, and make recommendations regarding future efficiency improvements. HASE was the second component of HUD's three-part Experimental Housing Allowance Program.

This report is part of the collection of scanned historical documents available to the public.