Housing Assistance Supply Experiment: Are Further Survey Cycles Needed in Site I?
Release Date:
July 1976 (70 pages)
Posted Date:
April 22, 2021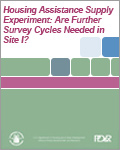 This historic working note addresses the question of whether additional survey cycles should be conducted in Brown County, Wisconsin, Site I of the Housing Assistance Supply Experiment (HASE). HASE was the second component of the three-part Experimental Housing Allowance Program, which tested the feasibility and desirability of a national program of direct housing assistance to low-income households.

This report is part of the collection of scanned historical documents available to the public.