Housing Authorities at Work: a Preliminary Report on Local Authority Activities in the Midwest Region
Release Date:
July 1947 (26 pages)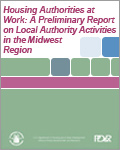 This historic report, prepared by the Committee on the Local Authority Role in Community Housing Activities of the National Association of Housing Officials' Midwest Regional Council, discusses the results of a questionnaire distributed by the committee to 79 local housing authorities in Illinois, Indiana, Missouri, Nebraska, and Wisconsin. The questionnaire included questions regarding current activities of the local agency and the opinion of the local authority on its duties and responsibilities. The states of Iowa, North Dakota, South Dakota, and Minnesota, while within NAHO's Midwest Region, had no local housing authorities to poll and were therefore omitted from the report.

This report is part of the collection of scanned historical documents available to the public.