Housing Conditions in Urban Poverty Areas
Release Date:
January 1968 (25 pages)
Posted Date:
March 12, 2019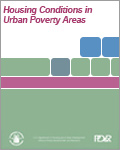 This historic research report uses data collected by the U.S. Bureau of the Census to characterize the geography, extent, and housing conditions of "poverty areas" in major cities around the country. This publication is part of a series of background studies that the National Commission on Urban Problems was tasked with investigating by Congress.

This report is part of the collection of scanned historical documents available to the public.