Housing Preferences Of Farm Families In The Northeast
Release Date:
July 1951 (18 pages)
Posted Date:
February 21, 2018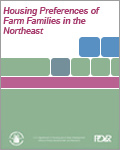 This historic bulletin, published by a unit of the State University of New York at Cornell University, discusses the housing preferences of households living on owner-operated farms in Connecticut, Maine, Massachusetts, New Jersey, New York, Pennsylvania, Rhode Island, and West Virginia. The bulletin is based on information derived from a 1948 United States Department of Agriculture housing survey.

This report is part of the collection of scanned historical documents available to the public.