Housing Search and Mobility
Release Date:
September 1979 (56 pages)
Posted Date:
January 27, 2021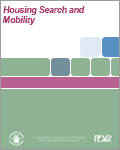 This historic report examines how households in various income brackets search for housing, how discrimination impacts housing search, and how differing search procedures impact ability to find affordable housing. The report was prepared by the Rand Corporation for a conference on the housing choices of low-income families, and was based on research conducted as part of the Housing Assistance Supply Experiment.

This report is part of the collection of scanned historical documents available to the public.