Housing Study for the Republic of Haiti
Release Date:
October 1948 (25 pages)
Posted Date:
September 13, 2018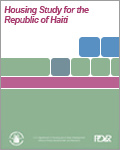 This historic document, prepared in consultation with the Office of the Administrator of the U. S. Housing and Home Finance Agency, details a study of housing conditions in Haiti and suggests a housing program appropriate for that nation's conditions. The study was produced through cooperation between the government of Haiti and the U.S. Department of State, under the latter's program for scientific and cultural cooperation with other nations.

This report is part of the collection of scanned historical documents available to the public.