Housing Surveys Parts 1 and 2: Occupants of New Housing Units, Mobile Homes and the Housing Supply
Release Date:
November 1968 (158 pages)
Posted Date:
February 10, 2021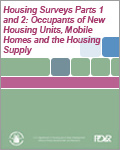 This historic publication consists of two separate analyses prepared by HUD's Office of Economic and Market Analysis. Each analysis is based on a survey conducted by the U.S. Department of Commerce's Census Bureau. The first analysis examines the Survey of Occupants of New Housing and was prepared by Warren A. Lasko, while the second, an analysis of the Mobile Homes Survey, was prepared by Theodore H. Levin.

This report is part of the collection of scanned historical documents available to the public.