Housing of the Nonwhite Population 1940 to 1947
Release Date:
June 1948 (20 pages)
Posted Date:
July 1, 2021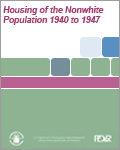 This historic publication focuses on the current housing situation among the nonwhite population and uses data from the Census Bureau between 1940 to 1947 from the censuses of population and housing. The report is meant as a stepping stone to the determination of the housing requirements of nonwhites, and to the means by which such requirements may be met.

This report is part of the collection of scanned historical documents available to the public.