Housing of the Nonwhite Population 1940 to 1950
Release Date:
July 1952 (46 pages)
Posted Date:
July 1, 2021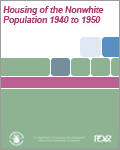 This historic publication focuses on the current housing situation among the nonwhite population and uses data from the Census Bureau between 1940 to 1950 from the censuses of population and housing. The report is a revision and expansion of an earlier report having the same title but covering only the first 7 years, 1940-1947.

This report is part of the collection of scanned historical documents available to the public.