Housing the Urban Non-White Population in the United States
Release Date:
November 1944 (45 pages)
Posted Date:
June 25, 2018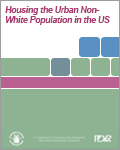 Submitted by Principal Housing Analyst B.T. McGraw of the Housing Market Service, this report summarizes the conditions of housing available to racial minorities in 1940 and makes recommendations for health and safety improvements. The report provides demographic information from the U.S. Census Bureau and describes changes in housing availability or condition as a result of the war economy.

This report is part of the collection of scanned historical documents available to the public.