How Housing Allowance Recipients Adjust Housing Consumption – Housing Assistance Supply Experiment
Release Date:
August 1980 (56 pages)
Posted Date:
January 27, 2021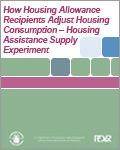 This historic note, originally prepared for the November 1979 meeting of the Regional Science Association, discusses the Housing Assistance Supply Experiment (HASE) and observations of changes in housing consumption by its participants. HASE participants were low-income households in Green Bay, Wisconsin and South Bend, Indiana, who received monthly cash payments in order to offset their housing costs. The authors of this note found that recipients of assistance through the experiment tended not to increase housing spending significantly, but did move to seek out better housing, conduct repairs of substandard housing, or simply increase spending in other life areas.

This report is part of the collection of scanned historical documents available to the public.